PipTree's new bespoke cabin is named for it's Western Cedar Shingle roof which we nailed on individually by hand – it took ages! The pine structured building is designed to fulfil a range of purposes: as a place for shade from the sun, warmth in the winter (with fitted electric touch-pad heaters above the tables coming soon) and as a shelter from the wind, courtesy of having walls on two sides.
Welcome to all, but aimed primarily at dog-walkers, cyclists and ramblers, we hope it's unique ambience will make it popular throughout the year.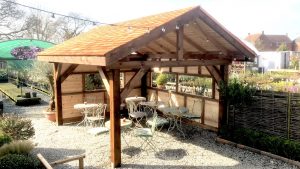 Don't shout it out (it's not a done deal yet!) but we're also considering making The Cedar House available for group bookings of 12-16 people in the near future, and would welcome your feedback on this idea.. would you be interested?