What makes a great coffee? Why great beans of course!
Partnerships don't come much better than the one we have with 200 Degrees Coffee Roasters of Nottingham. They're a trail-blazing independent roastery, coffee shop chain and barista training school who are putting Nottingham on the British coffee map in a big way. What's more, they really know their stuff, and since coffee gets pretty technical on a commercial scale we felt it was vital to get the set-up just right. We're proud to say our staff were among the first individuals in the country to progress through their fantastic barista training program, and this set the foundations for the high standards we keep to this day.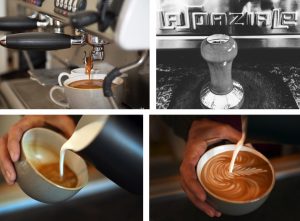 At PipTree we use their flagship house blend called 'The Brazilian Love Affair', which combines two arabica beans with a third robusta to really fortify the flavour. The result is a distinct, full and well-rounded taste with plenty of caffeine and kick, but no discernable bitter or ripe notes. It's a winner, and fully deserves the high praise it usually receives, and has been our house blend since we opened in 2015.
Brazilian Love Affair is always on sale in PipTree in 250g retail bags at £6.50, and is available regular or decaf, ground or whole bean, enabling you to drink it at home in your bean-to-cup machine or cafetière.